PLCPD and Plan International – Philippines sustain partnership to ensure that children are #SafeEverywhere
The Philippine Legislators' Committee on Population and Development (PLCPD) and Plan International – Philippines signed a Memorandum of Agreement for their continuing partnership for the protection of children from sexual violence online and offline.
A long-standing partnership for children's rights
Held on April 15, the ceremonial signing did not only signal a new partnership but became an opportunity to look back at the 14-year history of PLCPD and Plan's cooperation toward the promotion and protection of children's rights through legislative reforms. The two organizations have waged legislative advocacy and campaigns on issues such as banning of corporal punishment of children and promotion of positive discipline, retention of the minimum age of criminal responsibility at 15, increasing the age to determine statutory rape, prevention of online and offline sexual abuse and exploitation of children, and recently, ending child marriages, among others.
This year, the two organizations launched the #SafeEverywhere campaign, which aims to contribute to policy reforms toward ending child marriage and online sexual abuse and exploitation of children (OSAEC) in the Philippines.
Ending child marriage and OSAEC in the Philippines
The Philippines ranks 12th with the highest absolute numbers of child marriage cases globally. This means 726,000 children have been married as a child and 15% of Filipino girls being married before the age of 18 – resulting in school dropout, early childbearing, and increased risks for experience of any form of violence for girls. As such, there is moral imperative for legislators and child rights advocates to prioritize the passage of a national legislation that will penalize acts that allow child marriage. Senate has approved its version of the proposed measure and the House of Representatives (HRep) Committee on Women and Gender Equality is gearing up for the much-awaited deliberations.
Meanwhile, in a growing digital world, the Philippines became a global hotspot for acts of Online Sexual Abuse and Exploitation of Children (OSAEC) where child sexual abuse and exploitation materials are being sold all over the world. In 2019, the Department of Justice received 426,000 reports of OSAEC cases, but when the pandemic started, it increased to 1,297,00 reports. It is projected that there are more unreported cases. Without the policies and services that should protect children during a pandemic where the main drivers of these issues such as poverty is prevalent, these children are left vulnerable in the face of these acts of violence and abuse.
In her message during the ceremonial signing, Rep. Maria Lourdes Acosta-Alba, Chair of House of Representatives Committee on Women and Gender Equality (CWGE) and PLCPD's Chair for the HRep, assured both organizations of the commitment of (CWGE) and the Committee on the Welfare of Children, which list child marriage and OSAEC among their respective committees' priority bills in the 18th Congress.
"With the privilege granted to be called your representatives, we welcome your efforts to inspire communities, our constituencies of women and girls to believe in building on their issues. To trust us in the process of legislation, and together mark it as the law of our land." Rep. Acosta-Alba remarked.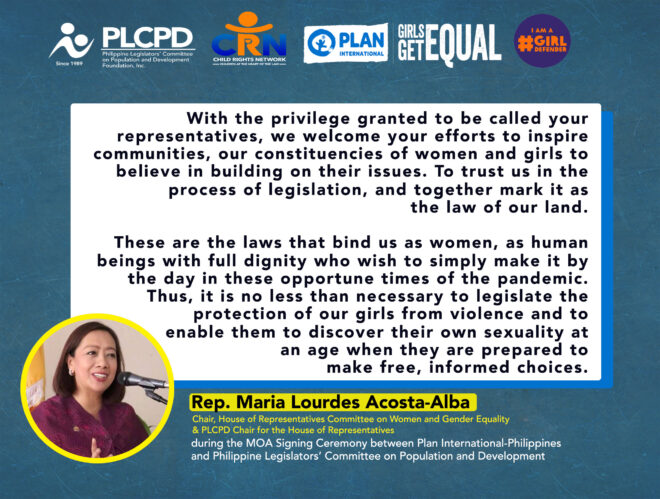 Existing networks and partnerships of both organizations working on the campaigns to end child marriage and OSAEC such as the Child Rights Network, #GirlDefenders Alliance, and the Girls Get Equal campaign are also part of this new cooperation.
PLCPD Executive Director Mr. Romeo Dongeto and PLAN International Philippines Country Director Ms. Ana Maria Locsin shared their hopes and common vision toward a future for children safe from all forms of violence, online and offline.
The #SafeEverywhere campaign was officially launched on March 23 during a special episode of PLCPD's Usapang Human Development online talk show.