Advocates commemorate 4th anniversary, call on government to fully implement RH Law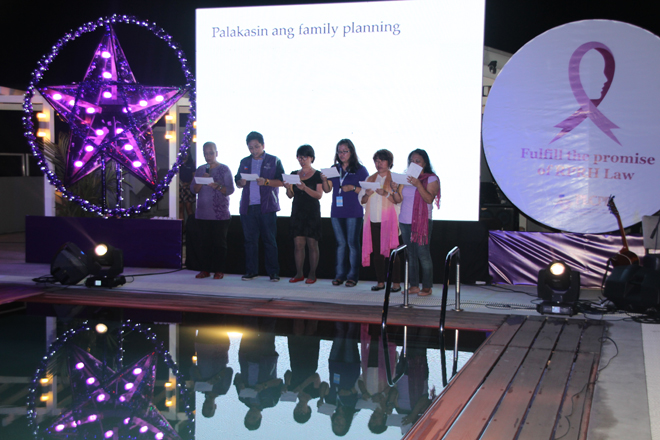 December 12, 2016
100 advocates of reproductive health in the Philippines celebrated the fourth anniversary of the enactment of Reproductive Health (RH Law) and called on the government to fully implement and fulfill the promise of the law.
In a creative advocacy event held on December 7 at Microtel by Wyndham called "Apat na Taon, Apat na Hiling" ("Four Years, Four Wishes: Celebrating four years, fulfilling the promise of the law"), advocates recalled the 14 years of struggle for the bill and the political commitment made by the State and the current situation of Filipinos, which has not improved much even after the law's enactment because of several challenges.
During the event, advocates communicated these "apat na hiling" ("four wishes") to the government:
1. To the executive: address all barriers to implementation and allocate enough funds to faithfully implement the law
2. To the local government units: prioritize health in local programming and pursue family planning independently
3. To Congress: address gaps in policy including the restriction on minors' access to reproductive health and family planning services and enact budget for full implementation of the law
4. To the Supreme Court: lift the temporary restraining order on buying and distributing contraceptives
Reproductive Health Law institutionalizes reproductive healthcare program in the Philippines. This includes: reproductive, maternal and child healthcare services, access to family planning, and sexuality and reproductive health information and education. The law guarantees Filipino women and couples' freedom of informed choice when it comes to the number and spacing of their children.
After 14 years in Congress, the law was finally enacted in December 2012. However, the law's constitutionality was contested before the Supreme Court, which decided in favor of the law but struck down a few of its salient provisions. Since this decision, antagonists to the law have filed petitions to void the registration of certain family products, alleging irregularities in the certification process. In its latest decision, the Supreme Court has barred the country's Food and Drug Administration from certifying new contraceptive products and renewing the certification of existing ones. It has also restrained the Department of Health from promoting, buying and distributing select contraceptives.
The Philippines did not meet its Millennium Development Goal (MDG) target of bringing down maternal deaths to 52 per 100,000 live births. As of 2013, the country's maternal mortality ratio stood at 221 deaths per 100,000 live births or 14 a day. The Philippines also has the highest rate of increase of teenage pregnancy in the Southeast Asian region, with 13% of young women 15-19 years old already pregnant or mother. The RH Law has been identified as one of the solutions to maternal deaths and teen pregnancies. Advocates are counting on the government to address the existing legal and institutional challenges to its implementation so that the law can deliver on its promise.