Candidates pledge RH Law implementation in Benguet forum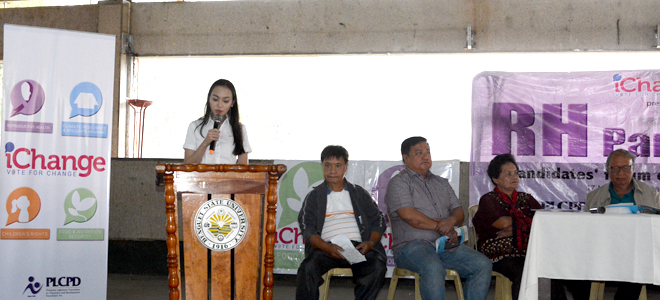 March 23, 2016
The Philippine Legislators' Committee on Population and Development (PLCPD) hosted a candidates' forum on reproductive health (RH) on March 17 at the Benguet State University (BSU) in La Trinidad.
15 candidates shared their position on RH during the event: Rep. Emmeline Aglipay-Villar of DIWA Party-List; Gov. Nestor Fongwan; Provincial Board Members Jack Dulnuan, Jim Botiwey, and Robert Namoro; Mayor Faustino Aquisan of Kabayan; Vice Mayor Romeo Salda of La Trinidad; and La Trinidad candidates Virginia Fianza, Guiller Galwan, Mark Corton, Bobot Fongwan, Jimmy Go, Henry Kipas, Rerato Tereng, and Roderick Awingan.
PLCPD's executive director Romeo Dongeto urged the audience, composed of around 150 BSU students and members of community organizations, to speak up about their views on reproductive health. He discussed the important provisions of the RH Law and how its current form limits adolescents' access to RH services. He stressed the importance of highlighting RH in the upcoming elections, especially in light of the rising incidence of teenage pregnancy and HIV infections among young people nationwide.
The Cordillera Administrative Region (CAR) has the highest rate of teenage pregnancy (18.4%) in the country, said Job Manalang, information officer of Commission of Population (POPCOM)-CAR. It is also the only region in the country where the proportion of females engaging in premarital sex is increasing, he added.
Mr. Manalang also shared that RH indicators in Benguet have improved. The contraceptive prevalence rate (CPR) increased to 56.7%, which is higher than the average CPR of CAR. Their maternal mortality ratio has decreased and is lower than the national average.
Moreover, problems in adolescent reproductive health persist in Baguio City, the highly-urbanized city of Benguet. Baguio has more number of live births (1,006) among 15-19 year old women in 2015 than Ifugao and Mountain Province combined (886) in 2014. Baguio also has five times more cases of STIs, HIV and AIDS among young people 15-24 years old (97 cases) in 2014 than the whole region from 2011-2013 (18 cases).
Committed partners in reproductive health
All candidates affirmed their support for the RH Law and pledged to sustain and strengthen efforts for the full and meaningful implementation of the law, especially at the grassroots level.
Congresswoman Emmeline Aglipay-Villar of DIWA Partylist shared her deeper appreciation—as a new mother—for maternal health as an important component of reproductive health. She also presented DIWA's legislative agenda for reproductive health, which includes the expanded maternity leave bill and the institutionalization of pregnancy and antenatal counselling. She stressed the state's obligation to fulfill reproductive health rights and provide the full spectrum of reproductive health services.
For his part, Governor Fongwan stressed the need to increase programs, manpower and funding for reproductive health programs. He decried the P1 billion-budget cut on family planning, saying this will severely affect the poorest municipalities.
Gov. Fongwan also lamented the current status of RH programs as "optional" in many LGUs due to lack of national appropriations. He aims to mandate the full implementation of RH programs at all levels of local government and their inclusion in the annual investment plans. He also urged local leaders in Benguet to ensure that RH programs and policies are in place and strengthened.
Other local candidates explained how they have already implemented RH programs such as provision of maternal and ante-natal health services, improvements of maternal health facilities and policies which institutionalize the implementation and appropriations of RH programs.
Hon. Robert Namoro lauded La Trinidad for incorporating budget appropriations for RH and conducting annual women's congress. Vice Mayor Salda of La Trinidad also explained that they institutionalized it through their Gender and Development (GAD) budget.
Moreover, most of the candidates also identified education and information dissemination as crucial responses to the growing concerns on adolescent health. They exalted existing and proposed dissemination avenues include barangay assemblies, flag ceremonies of students and parenting seminars.
Recognizing the importance role of frontline health workers, the candidates of La Trinidad also talked about an ordinance to increase the benefits of Barangay Health Workers. This bill is already at the second reading.
Reaching out to the youth
Meanwhile, municipal candidate Bobot Fongwan encouraged the audience to seek correct information on RH from elders like their teachers, parents or guardians instead of perpetuating wrong beliefs or myths with peers.
Age-appropriate sexuality education, said Cong. Emmeline Aglipay-Villar, is not only important to decrease the incidence of teenage pregnancies but to ensure that students understand how and why they should take care of their own health and bodies.
Teenage pregnancy is not a laughing matter and should be taken more seriously, said Mr. Manalang of POPCOM-CAR. "Hindi nakakatawa kapag buntis ang isang batang 14 years old at di niya alam ang dapat niyang gawin. (It's not funny when a fourteen year-old child gets pregnant and she does not know what to do.)," he said.
He challenged the youth to maximize their role in the upcoming elections. Candidates will be more inclined to listen and act when the affected population actually demands for reproductive health programs and services, he concluded.