European MPs join call for the implementation of RPRH Law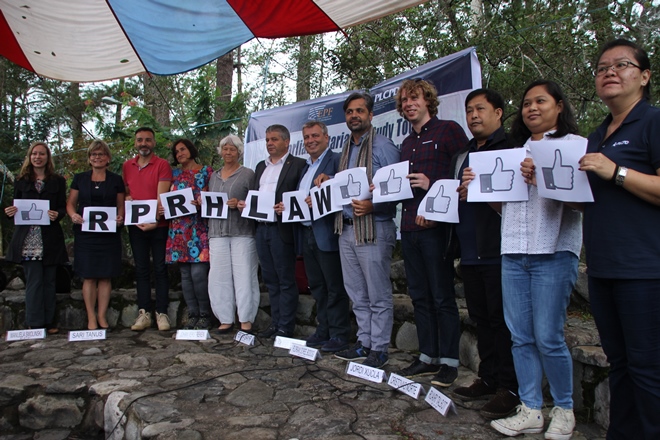 August 25, 2016
"The enactment of the Responsible Parenthood and Reproductive Health (RPRH) Law is indeed one monumental victory for women and men of the Philippines. However, what would ultimately spell the difference in their lives is the law's implementation," said Petra Bayr, a Member of Parliament (MP) of Austria in a press briefing held in Baguio City earlier today.
Bayr and six other European parliamentarians from Belgium, Denmark, Finland, Portugal, Romania, and Catalonia and Spain are in the Philippines for a week-long study tour to learn about the country's sexual and reproductive health and rights (SRHR) situation. In a press briefing to close their tour, the MPs urged stakeholders, particularly their counterpart lawmakers and government officials, to ensure the implementation of the RPRH Law. The study tour was organized by the European Parliamentarians' Forum on Population and Development (EPF) and was hosted by the Philippine Legislators' Committee on Population and Development (PLCPD).
"We commend the Congress of the Philippines for passing a very important law. We understand that pushing for this law had been very challenging and required so much courage from those who chose to stand for it," added Johan Verstreken, a member of the Belgian Parliament. Now that there is a law, every opportunity must be seized to transform this political gain to a reality for the Filipino people, he further added.
The European parliamentarians arrived in Manila on Sunday, August 21. Since then, the delegation has met members and staff of PLCPD; legislators including Albay Representative Edcel Lagman and former Senator and now Taguig Congresswoman Pia Cayetano, both main authors of the law; officials of government agencies that have major roles in the implementation of the law including the Department of Health (DOH), Commission on Population (POPCOM), and the National Economic and Development Authority (NEDA); civil society organizations that were at the forefront of the movement for the passage of the law; and the Provincial Government of Benguet and the Municipal Government of La Trinidad led by Governor Cresencio Pacalso and Mayor Romeo Salda, respectively.
The series of meetings with various groups featured a discussion of the salient provisions of the law and the difficulties in implementation that national agencies and local government units (LGUs) face, including: funding, legal challenges concerning young people's access to services and public procurement and distribution of family planning commodities, and retrogressive bills filed by anti-RH lawmakers at both the national and LGU levels.
'Children having children'

"It breaks my heart to meet the poor community in Manila, especially its young women, and to know that every day they are exposed to risks and are forced into adulthood because of early and unintended pregnancies. This is something that must and can be addressed by the government. Information and services that fit their needs must be made available and accessible to young people and their parents. These services must also be offered free of charge" said Ulla Margrethe Sandbaek, MP of Denmark, as she reflected on her experience meeting an urban poor community in Tondo, Manila. The group also visited an indigenous people's community in La Trinidad, Benguet earlier today.
Meanwhile, Sari Tanus, MP of Finland, shared that the most alarming situation for her is that of Filipino adolescents. "As a mother, a medical doctor and a public servant, it is quite disturbing for me that this law—through some limitations in the age at which services can be freely obtained—effectively excludes young people. Yet, this is the sector that needs the services the most." Teenage pregnancy is on the rise in the country, with one in 10 young women aged 15-19 years pregnant for the first time or already a mother by 2013, according to the Young Adult Fertility and Sexuality Study. Moreover, a third of all new HIV cases belong to young people aged 15-24.
RH and inequality in the Philippines
Reproductive health has come a long way in the Philippines, especially with the enactment of RPRH Law in 2012. The law mandates the provision of maternal health services, almost universal access to a full range of family planning services, information and education on sexuality and RH, and funding for its implementation. It also prohibits private providers, local government officials, and employers from banning, restricting, or coercing the use of reproductive health services.
However, despite the law, key RH indicators in the country are still wanting. Romeo Dongeto, PLCPD's executive director, shared with the European MPs that the Philippines failed miserably in meeting its Millennium Development Goal (MDG) target of reducing maternal mortality ratio (MMR) to 52 deaths per 100,000 live births by 2015. According to the Philippine Statistics Authority, the country's MMR stands at 221 deaths per 100,000 live births or about 15 deaths per day. Contraceptive prevalence rate also remains low at 55%. Because of this, seven million Filipino women have unmet needs for family planning, according to the DOH.
"These figures are bad, but worse when we try to look deeper and see where the poor stand. Poor women have twice the number of children than they desire, while rich couples want and actually have an average of two children. This is because of the lack of access to family planning services. More poor women die of complications of childbirth and pregnancy. This is because of the lack of access to maternal healthcare. This is an issue of social inequality as much as it is an issue of health and rights. The law should be able to close this gap in healthcare," Dongeto said.
Learning from each other's experiences

"Coming from a country with a predominantly Roman Catholic population, I can share that we faced similar difficulties in the past in our reproductive healthcare, and had similar maternal health indicators about four decades ago. Eventually, though, we succeeded in getting everyone on board. There must be a way to have all the institutions of society—including the Church—to work together. The Church should be an ally in ensuring that the rights of the people are protected and fulfilled," said Portugal MP Cristóvão Norte.
"As parliamentarians who recognize the centrality of sexual and reproductive health and rights in protecting human rights and achieving development, we are fortunate to have this opportunity to know more about the RH situation in the Philippines. We are aware that there are still a lot of challenges, but having met all these passionate individuals working in the field, we also see that Filipinos can look forward to a better future," said Florian Dorel Bordog, MP of Romania
"From what we've heard, the new President has also made strong commitments for the full enforcement of the law. That's a very promising start," added Jordi Xucia, MP of Catalonia and Spain. "Finally, we thank everyone we've met during our week-long tour. We have been inspired and challenged by your stories, and will all go home with a lot of lessons from your people, for our own people…and think of ideas for sustaining this exchange and helping each other," he said as he gave his closing statements.