Groups challenge senatoriables to champion disaster-resilient housing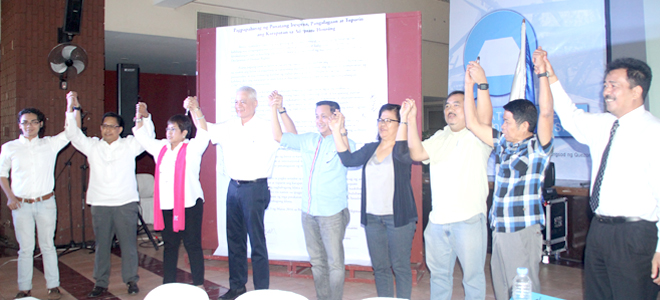 March 5, 2016
Several civil society organizations urged senatorial candidates to take all necessary efforts to address the increasing vulnerability of poor and disaster-affected Philippine communities due to climate change, in a forum in the University of the Philippines Diliman, on March 3.
The Philippine Legislators' Committee on Population and Development (PLCPD) hosted the dialogue between organizations working on climate resilience and disaster management and senatorial candidates Raffy Alunan, Lorna Kapunan and Francis Tolentino.
In a statement, PLCPD executive director Romeo C. Dongeto, called on the candidates to champion policies and programs that promote the right of all people to adequate housing, especially amidst the growing threat of climate change.
Adequate housing is a fundamental human right, enshrined in the Universal Declaration on Human Rights and the International Covenant on Economic, Social and Cultural Rights. It requires shelter safe from all forms of harm, sensitive to special needs of its inhabitants and with access to basic utilities, social services and livelihood opportunities.
Government accountability
Former Interior and Local Government Secretary Alunan said that it is the role of government to uplift lives and provide people their basic needs such as food, water, jobs and housing. He underscored the importance of good governance to achieve this.
Accountability and transparency through freedom of information is crucial in ensuring disaster victims are fully rehabilitated, Atty. Kapunan said.
Asked about how she will hold the authorities accountable for the deaths in Supertyphoon Yolanda, Kapunan answered she wants the "death penalty to all of them", drawing cheers from the audience.
Holistic, multisectoral approach
For his part, former MMDA chair Francis Tolentino said the Yolanda disaster was confounded by different factors. Responsibility for disaster preparedness rests on all stakeholders, he said.
He stressed the importance of multisectoral participation and consultation in addressing disasters and climate change. The interest of the people should always be considered in resettling communities, he added, building his case for on-site socialized housing with ensured access to transportation and economic opportunities, and protection of indigenous peoples against mining.
Alunan also emphasized the need of a holistic approach in building climate-resilient communities.
Green technology
Investment in green technology and renewable energy will also contribute in combatting climate change, said Kapunan. She proposed giving tax incentives and research grants to businesses developing and using clean energy, a point echoed by Tolentino.
Stronger local government
Meanwhile, addressing vulnerability of poor communities, especially in urban centers, requires devolution of resources to areas outside Manila, said Kapunan.
"Opportunities should be present in other regions for businesses to grow and provide local employment," she said.
Local government units should also be capacitated to respond to disasters and promote sustainable development, Tolentino said. He cited his experience as mayor of Tagaytay in addressing issues on housing and development.
Tolentino also said that the national government should refund the 5% calamity fund of LGUs to replenish resources for disaster preparedness and rehabilitation.
Ecological security, environmental justice
Furthermore, Alunan urged the protection of natural lifelines through reforestation, mangrove planting, and cleaning of rivers to provide ecological security and environment justice.
Streamline agencies
To achieve security from disasters, Kapunan said a separate department on climate change should be created.
On the other hand, Tolentino urged the establishment of a department on disaster management and reconstruction that will synchronize disaster relief and recovery efforts in local and national levels.
A resilient and sustainable future
PLCPD organized the dialogue in coordination with DRRNet Philippines, Aksyon Klima, the University of the Philippines Student Council, and various civil society and youth organizations committed in building a resilient and sustainable future.
"Our next set of leaders must not only enact responsive policies to the demands of changing climate but also ensure that sufficient funding are allocated for their full implementation," Dongeto concluded.