iChange goes to Bicol, urges candidates to defend RH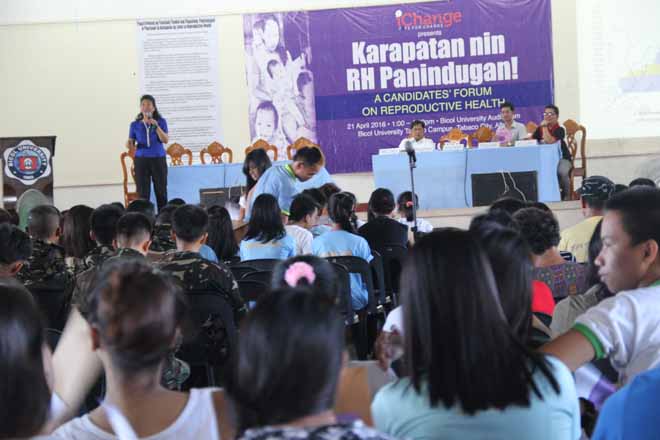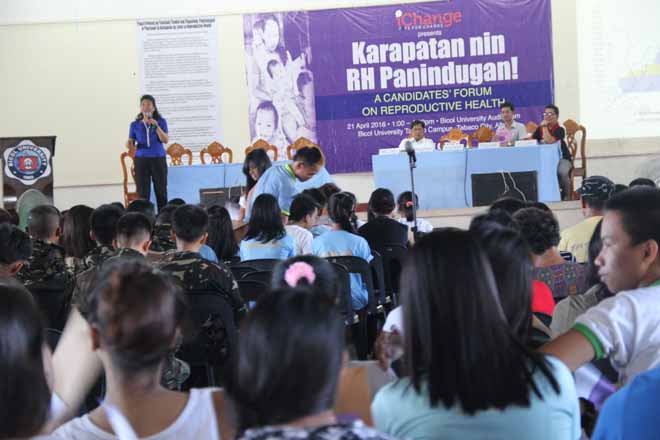 April 21, 2016
The Philippine Legislators' Committee on Population and Development (PLCPD), Commission on Population Region V, Department of Health (DOH)Region V, Population Management Bureau, members of different youth organizations and various community groups in Tabaco City and other municipalities of Albay urged local and national candidates to take all necessary efforts to address the increasing teenage pregnancy, maternal and child deaths, and increasing HIV cases among youth in a candidates' forum in Bicol University Tabaco Campus in Albay.
The forum was attended by city councilor candidate Sheina Onrubia, Tabaco mayoral candidate Krisel Lagman, and representative of Ako Bicol Partylist Nico Guillermo.
PLCPD's executive director Mr. Romeo Dongeto encouraged the participants to raise their voice in the upcoming elections in choosing leaders who champion the implementation of the Responsible Parenthood and Reproductive Health Law amidst the recent 1 billion peso-budget cut on family planning services.
POPCOM Regional Director Ms. Magdalena Abellera stated that Region V has the third highest number of young people who have read pornographic materials. She also showed the increasing proportions of young people who have engaged in sex before the age of 18, from 11.8 in 1994 to 18.4 in 2013.
Teenage pregnancy in Region V is continuously increasing, from 1,427 in 2013 to 2,534 in 2015, according to Population Management Bureau Population Program Officer III Mr. Ryan Altavano. However, as of first quarter this year, recorded teenage pregnancies (270) is lower than 383 by first quarter of last year.
Department of Health Family Health Cluster Coordinator Mr. Dave Plopinio reported the increasing contraceptive prevalence rate in the region from 38.52% in 2014 to 39.52% in 2015.
Accessibility and availabity of facilities and services
Tabaco mayoral candidate Lagman and Ako Bicol Partylist representative Guillermo acknowledged that access to facilities and services is one of the biggest issues in Tabaco. They believe that fast and reliable service is needed to be prioritized in the implementation of RH.
However, DOH is continuously providing information and setting up clinics in communities so they can access services, according to Mr. Plopinio.
Awareness campaign
Mr. Plopinio and Ako Bicol Partylist representative Guillermo said that the solution to the increasing HIV cases is a strong HIV awareness campaign. Mr. Altavano stated that knowledge on HIV and free HIV counseling and testing must be disseminated to the public.
Availability of funds
Availability of funds is crucial in the implementation of RH Law. Thus, City Councilor Candidate Onrubia pushed for the inclusion of reproductive health budget in the barangay budget in her previous term. Tabaco mayoral candidate Lagman also believes that additional fund is needed to prevent further increase in new HIV cases.
[/toggle]