Job Announcement: Advocacy and Partnerships Officer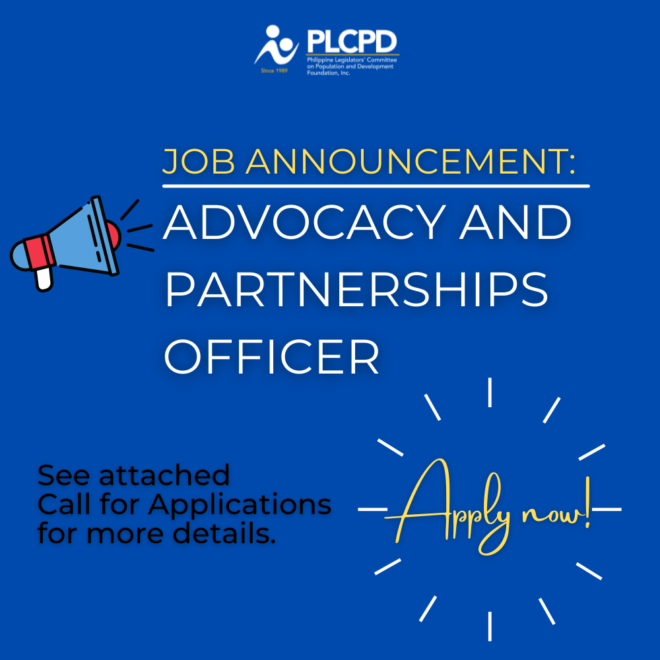 Posting date: 7 July 2022
For immediate hiring
PLCPD is looking for an individual who is interested to work full-time as Advocacy and Partnerships Officer (APO).  The APO will be assigned to the organization's advocacy on: tobacco control.  
Interested applicants may send their CV and letter of application to plcpdfound@plcpd.org.ph. Address your communication to Mr. Romeo Dongeto, Executive Director.
Main Functions of the Advocacy and Partnerships Officer:
develops and implements a legislative advocacy plan for the assigned issues
implements advocacy activities and ensures completion of project deliverables
develops and builds issue champions among PLCPD and non-PLCPD members in Congress
renders efficient technical support and mobilizes legislators in advocacy activities
builds and sustains partnerships with stakeholders from national and local legislative bodies, executive agencies, and civil society organizations as well as international development agencies
monitors the movement and support for the assigned bills
participates in technical working groups and conducts political mapping on priority measures
develops advocacy messages and writes press releases, position papers, and policy memos for legislators
participates in defining the research objectives of the organization and contributes to project development and institutional sustainability
generates activity and project reports
Qualifications
Bachelor's degree
at least three years of experience in advocacy work
strong interpersonal and networking skills
excellent written and verbal communication skills
The detailed job description qualification with qualifications is found here.