Malinis na Hangin, Ipaglaban Natin!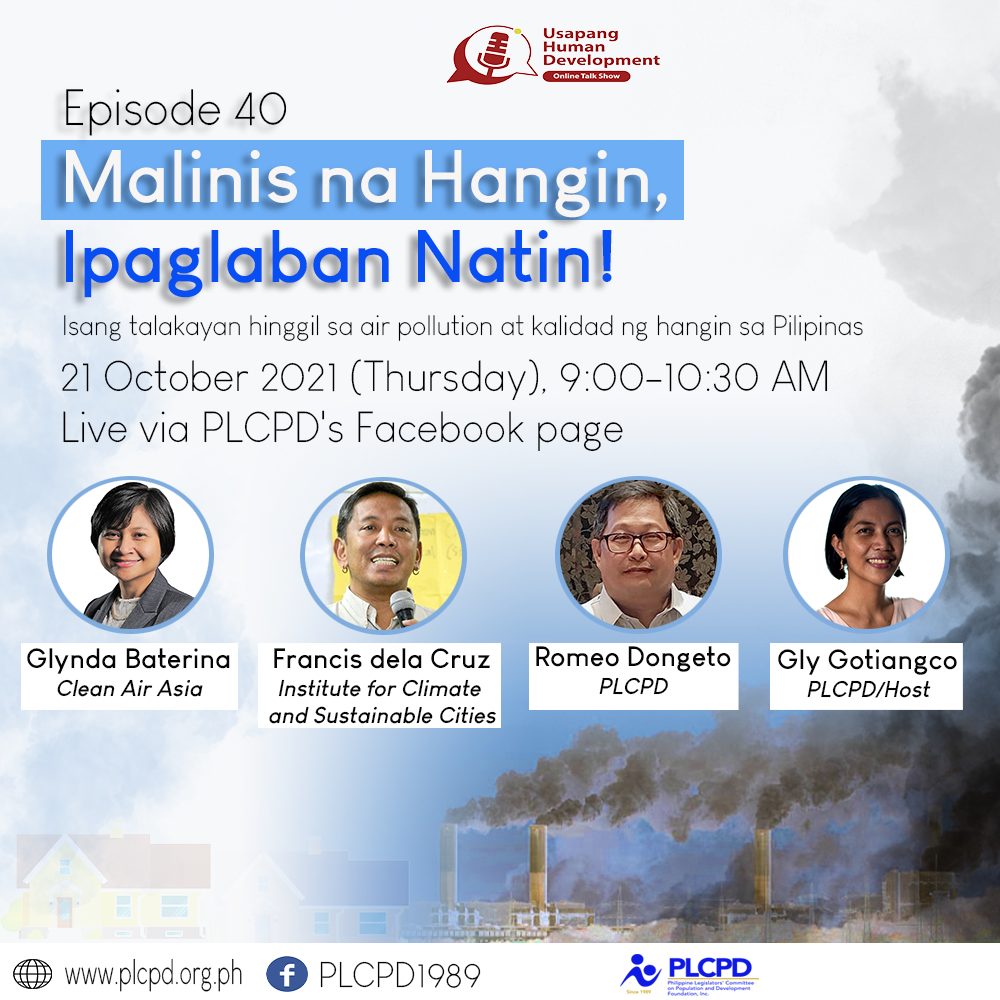 PLCPD's 40th episode of its Usapang Human Development emphasized the state of air quality in the Philippines, and what the collective efforts of the government and the public can contribute to addressing the issue.
This episode titled, "Malinis na Hangin, Ipaglaban Natin", zoomed in on the country's ambient air quality in light of the World Health Organization's (WHO) recently updated Global Air Quality Guidelines, which serves as a template for countries to improve their overall air quality. The Philippines enacted Republic Act 8749 or the Act Providing for a Comprehensive Air Pollution Control Policy and for Other Purposes, more popularly known as Clean Air Act in 1999. The law seeks to establish programs that will ensure globally-acceptable air quality standards across the country through the various government agencies and instrumentalities, particularly the Department of Environment and Natural resources – Environmental Management Bureau, Department of Transportation, Department of Labor, and others. The law also provides for a Joint Congressional Oversight to monitor the implementation. However, 22 years since the law was enacted and the Oversight Committee has not convened. PLCPD, along with its partners, Tara European Climate Foundation, Institute for Climate and Sustainable Cities, Clean Air Asia, along with other civil society groups, are calling on Congress to prioritize the oversight of RA 8749 to mitigate the current air quality situation by identifying policy and skills gaps, as well as the possible solutions.
The panelists for this episode include Engr. Jundy del Socorro and Engr. Paul Vallar of the Environmental Management Bureau of the Department of Environment and Natural Resources (DENR), Atty. Glynda Baterina of Clean Air Asia, Mr. Francis Dela Cruz of the Institute for Climate and Sustainable Cities (ICSC), and Mr. Romeo Dongeto of PLCPD. It was hosted by PLCPD Advocacy and Partnerships Officer Glyziel Gotiangco.