New study reveals 1 in 7 Pinoy students aged 13-15 use e-cigarettes
Senate bill easing e-cig regulation set to worsen the problem – child rights group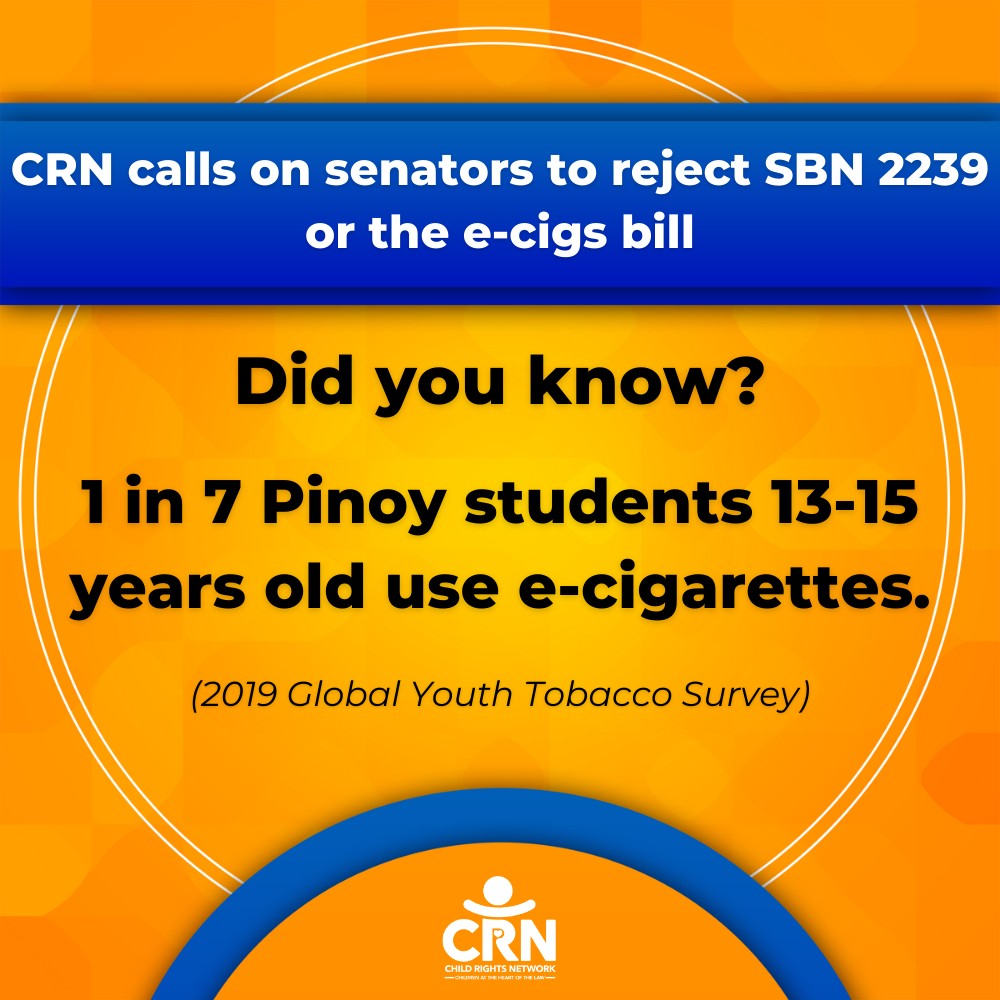 September 21—A new study monitoring youth tobacco use reveals worrying statistics on the prevalence of use, lax regulations, and wide availability of tobacco products including e-cigarettes, prompting child rights advocates led by the Child Rights Network (CRN) to reiterate their call for senators to reject Senate Bill No. (SBN) 2239, or the E-Cigs Bill, which relaxes the regulation of electronic nicotine delivery systems (ENDS) or e-cigarettes.
The results of the 2019 Global Youth Tobacco Survey (GYTS) which was released only recently, revealed that there is a higher prevalence of use of e-cigarettes than the use of any other tobacco products among Filipino students aged 13 to 15 years.
About 14.1% – or one in seven – students aged 13 to 15 said that they are currently using e-cigarettes. Overall, about one in eight students of the same age group (12.5%) are currently using various tobacco products. One in four (24.5%), meanwhile, have tried using e-cigarettes.
The GYTS is a cross-sectional, nationally representative school-based survey of students in grades 7-10, with ages 13 to 15 years. Conducted in the Philippines in 2019 by the Epidemiology Bureau of the Department of Health in coordination with the Department of Education and Centers for Health Development, the survey involved a total of 6,670 students under the said age bracket.
The GYTS also revealed how easy it is for the youth to buy tobacco products in the country, with about two in five students who currently smoke (37%) saying that it was easy for them to buy tobacco products regardless of their age.
"These alarming figures should serve as a wake-up call for our senators to reject the bill easing e-cigarette regulation. The wide prevalence of use of e-cigs as revealed by the GYTS should be enough reason for our senators to recalibrate their approach on the E-Cigs Bill and consider the health hazards these products pose," said Romeo Dongeto, Convenor of CRN.
E-cig use is a health issue
The GYTS offers compelling evidence that cigarettes and other tobacco products are widely accessible even when a law restricts access to minors, Dongeto stressed.
The House of Representatives has passed House Bill 9007, otherwise known as the proposed "Non-Combustible Nicotine Delivery Systems Regulation Act," popularly referred as the "E-Cigs Bill," on Third and Final Reading last May.
Senate's counterpart bill, SBN 2239, is currently being tackled in the plenary.
"The problem with the proposed E-Cigs Bill is that it relaxes control measures over harmful tobacco products. The bill also contains provisions that can potentially attract more Filipino youth and children to using these highly-addictive and dangerous products," Dongeto explained.
Advocates note that SBN 2239 reverses the gains made through laws enacted recently:
• SBN 2239 reverses the ban on flavors, which are meant to attract the youth.
• It lowers the minimum age of access to minors from 21 to 18.
• It transfers regulation powers from the Food and Drug Administration (FDA) to the Department of Trade and Industry, essentially making e-cigarettes regular consumer products.
• It allows the sale of e-cigarettes online.
Further, the E-Cigs Bill has treated ENDS regulation more as a trade-related issue, and not as a health-related legislation, essentially relaxing the regulation on the online trade of e-cigarettes without complementing them with enough safeguards.
CRN noted that the health hazards posed by using e-cigarettes have already been established by several studies. Aside from being highly addictive, e-cigarettes also cause "E-cigarette or Vaping-Associated Lung Injury" and heart disease, and its emissions can also harm others when inhaled.

'Retain stronger regulations'
Instead of relaxing regulations, CRN called for the full implementation of existing legislation including Republic Act (RA) No. 11467, which empowered the Food and Drug Administration (FDA) to regulate ENDS or e-cigarettes and vaporized nicotine products, and introduced a ban on flavors and a ban on the sale of these products to those below 21 years of age.
"The standards set by RA 11467 should be considered the bare minimum when it comes to regulating the e-cigarette industry. Similarly, we propose that all flavors of e-cigarettes be banned, as these enticing flavors are being used by the industry to hook children into using their addictive products," Dongeto stressed.
"May we safeguard our nation's future generation by ensuring that stronger regulations are in place and are properly implemented," Dongeto concluded.