PLCPD launches voter education campaign, calls on candidates to prioritize human development
February 23, 2016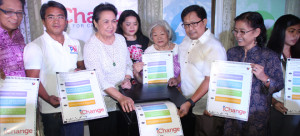 Advocacy group Philippine Legislators' Committee on Population and Development (PLCPD) launches today its voter education campaign to empower voters with information that will help them make better choices on Election Day, stressing the need to elect leaders who will prioritize human development.
"Elections provide the opportunity for the people to shape their future. Effecting positive change starts with voters electing leaders who will address pressing issues that affect human development, and national development in the long run," explained Romeo C. Dongeto, PLCPD executive director.
The launch of PLCPD's voter education campaign called "iChange: Vote for Change" coincides with the 30th anniversary of the EDSA People Power revolution, which overthrew the Marcos dictatorship and restored democratic rule in the country.
"The promise of EDSA and democracy to empower every Filipino – especially the poor and vulnerable – is yet to be fully realized. Despite the enactment of landmark laws that seek to address social inequalities and empower women and marginalized sectors, and despite steady economic growth in recent years, millions of Filipinos still suffer from poverty, hunger and malnutrition, violence and the adverse effects of natural disasters," Dongeto lamented.
"The 2016 elections gives us another chance to use the sovereign power vested on us by our Constitution towards building a more prosperous and sustainable future for all Filipinos," Dongeto added.
PLCPD's iChange campaign aims to mainstream a progressive human development agenda, calling for policy reform and decisive action to address issues in reproductive health, food and nutrition security, children's rights, and climate resilience and adequate housing.
As part of the campaign, PLCPD will host several candidates' forums at the national and local levels to engage candidates and utilize social media to disseminate information on candidates' positions and plans on the issues enumerated above. PLCPD will also.
"It is critical that we arm the voters with information to guide them in choosing their next set of leaders. It is also important to hold dialogues with candidates to register our concerns and demand that they take all necessary measures to fully address our needs and protect our fundamental human rights," Dongeto concluded.