PLCPD leads the twin celebration of the Nutrition and Breastfeeding Awareness Months inside Congress
The Philippine Legislators' Committee on Population and Development led this year's twin celebration of National Nutrition Month (July) and National Breastfeeding Awareness Month (August) in both houses of Congress.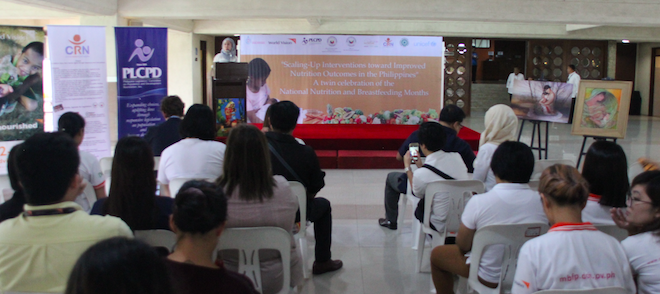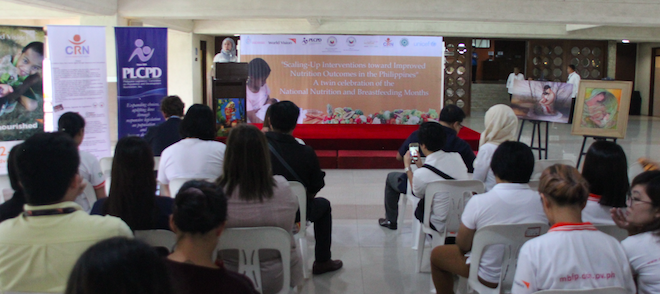 With the overarching theme "Scaling Up Synergies for Child Nutrition," the celebration highlighted the multi-faceted drive in advancing the child's overall wellbeing through nutrition-specific and nutrition-sensitive interventions, which are reflected in different legislative measures in both Houses of Congress.
The celebration also promoted nutrition by natural methods, highlighting the importance of exclusive breastfeeding in the first six months and mix feeding thereafter using indigenous food items in sustaining child's health. The timely passage of the First 1,000 Days Bill made a great addition to the celebration.
Separately observed, the week-long celebrations in the Senate and House of Representatives were used as platforms to highlight the country's progressive and visionary laws as well as to renew the call for legislation that will strengthen and complement them.




The celebration also featured an Advocacy Fair, with booths by: the National Nutrition Council displaying various materials promoting the Philippine Plan of Action for Nutrition; the Department of Agriculture, which showcased organic food items; World Vision, with an interactive station for infant and young child feeding; UNICEF, promoting First 1,000 Days; and PLCPD, promoting nutrition-related laws enacted since the 1980s.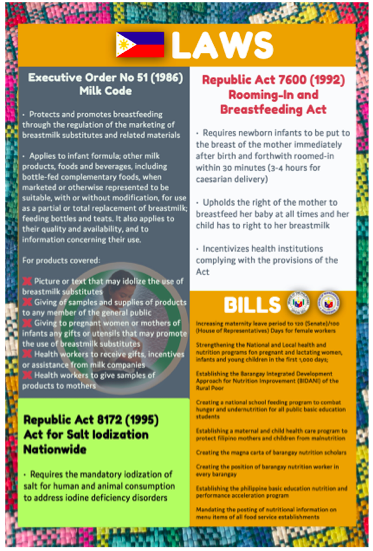 The event was organized by PLCPD in partnership with the National Nutrition Council, UNICEF, Scaling-Up Nutrition Core Group, World Vision, Mother-Baby Friendly Philippines, Breastfeeding Pinays, and the Child Rights network, and in coordination with the offices of Senator Risa Hontiveros and House of Representatives Deputy Speaker Sharon Garin. World Vision also introduced the app-based monitoring of Milk Code violations, https://mbfp.doh.gov.ph, during the celebration.