PLCPD to electorate: Vote for pro-RH bets, vote for women and youth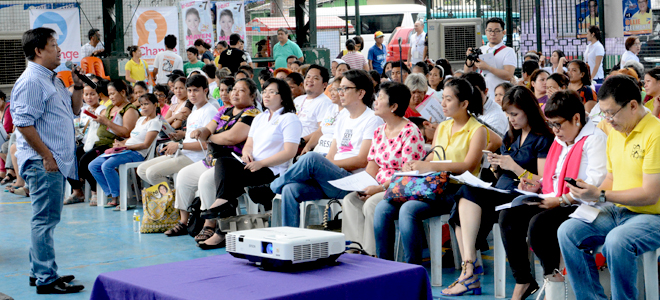 April 14, 2016
Advocacy group Philippine Legislators' Committee on Population and Development (PLCPD) urged voters to elect leaders who will ensure the full implementation of the Reproductive Health and Responsible Parenthood Law.
"A vote for pro-RH candidates is a vote for Filipino women and youth who, per government data and public surveys, need most RH information and services," said Romeo Dongeto, PLCPD executive director, in a public forum in Barangay Project 6, Quezon City last April 14.
Seven million Filipinas have unmet need for family planning, said Dongeto, citing data from the Department of Health. Meanwhile, according to the 2013 National Demographic and Health Survey, 221 mothers die per 100,000 live births due to complications during pregnancy or childbirth, Dongeto added.
He also cited a Pulse Asia survey in February 2016 which showed 95% of Filipinos say it is important to have the ability to plan their families. Based on the said survey, 86% of Filipinos want the government to allocate funding for family planning services.
Meanwhile, the Philippines has the high teenage pregnancy rate with one in every 10 or 14% of Filipino girls aged 15-19 either pregnant for the first time or already mothers in 2013, according to the 2013 Young Adult Fertility and Sexuality Study.
The Philippines has also the fastest growing HIV epidemic in the world, according to the World Health Organization. From one case per day in 2008, 22 new HIV cases were reported every day in 2015. In January 2016, 804 new HIV cases were documented. Around 28% of these cases are among young people aged 15-24.
"It is very clear that Filipinos, especially women and young people, need reproductive health and family planning information and services to protect their health and plan their future. Only the heartless candidates will not heed the people's cry for help," Dongeto said.
"Addressing these needs would require full support from national and local officials to ensure sufficient funding for comprehensive sexuality education, building fully-equipped facilities and capacitating health workers, and service delivery," Dongeto added.
Several candidates joined the discussion and shared their respective positions and platforms on RH with the audience from different barangays in Quezon City.
Senatorial candidate Atty. Lorna Kapunan pledged her support for reproductive health and women's rights. Ang NARS Party-list Rep. Leah Paquiz and AKBAYAN fourth nominee Rafaela David also committed to address public health issues, including RH.
Meanwhile, vice-presidential candidate Rep. Leni Robredo was represented by her niece Dr. Gaile Robredo who shared about Rep. Robredo's long experience in championing women's rights.
"The challenge is not only upon candidates but voters as well to choose the right leaders who will ensure the meaningful implementation of the RPRH Law. And demanding our right to RH does not end in the elections. We should remain vigilant and watch closely whether our leaders will stay true to their promise to defend RH," Dongeto concluded.