PLCPD marks 25 yeas in policy advocacy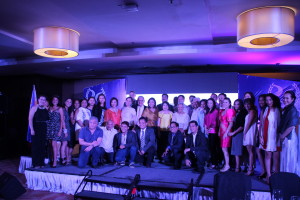 PLCPD celebrated last November 25 its 25th Founding Anniversary at the Crowne Plaza Hotel, Ortigas, with the theme "Expanding choices, uplifting lives: Celebrating 25 years of advocacy on population and human development."
PLCPD Chairperson for the House of Representatives Rep. Bellaflor J. Angara-Castillo, opened the program and welcomed the guests. Her welcome remarks was followed by a short presentation on past successes of PLCPD, delivered by PLCPD Vice Chairperson for Luzon Rep. Teddy B. Baguilat and first Executive Director Mr. Benjamin de Leon. Former Rep. Josie Joson, in her message on milestones in advocacy, recalled the lessons learned from the early years in the struggle for the reproductive health (RH) bill, as well as from advocating other issues in the organization's policy agenda.
In his keynote address, Speaker Feliciano Belmonte Jr. lauded his colleagues in both houses of Congress for championing policies on population and human development. He congratulated in particular Rep. Edcel Lagman for being one of the most indefatigable champions of RH bill. He stressed further that "Sustainable human development is important. We have to take much better care of our women and children, and the poor and the vulnerable of our society."
Rep. Lagman, who led the ceremonial toast, shared a few anecdotes from the last few years of the RH struggle as well as the lessons that can be applied in other advocacy issues.
Another highlight of the event was the awarding of the Human Development Legislator: Lifetime Achievement Award led by Reps. Luz Ilagan and Susan Yap, Vice Chairperson for Mindanao and Secretary. Former Senator Leticia Ramos-Shahani, PLCPD's founding chairperson, was bestowed the honor for her tireless work in championing population and human development causes.
Committed to continue its advocacy of improving the quality of life of the Filipino in the next 25 years and beyond, PLCPD also launched the initial plans for the Human Development Center which will house future studies and host events on population and human development. The launch was led by Reps. Angara-Castillo and Linabelle Ruth Villarica and past and current Executive Directors RobertoAdor and Romeo Dongeto. PLCPD Vice Chairperson for Visayas Rep. Sharon Garin, on one hand, spoke on PLCPD's current priorities and plans for the future.
In his closing remarks, PLCPD Vice Chairperson for the Senate Sen. Juan Edgardo "Sonny" Angara urged his colleagues to continue what PLCPD has done in the last quarter century.
It was a night full of reminiscing, attended by past and current PLCPD members, past and current members of the Secretariat, friends and partners in the civil society and the international development community.
Founded in 1989, PLCPD is an organization of national lawmakers who work together in advocating policies to advance population and human development in the country. The organization has advocated legislation in the areas of children's rights, education, environment, fiscal reforms, governance, human rights, public health, rural development, and women's rights, among others.