RH advocates demand bets to stand up for RH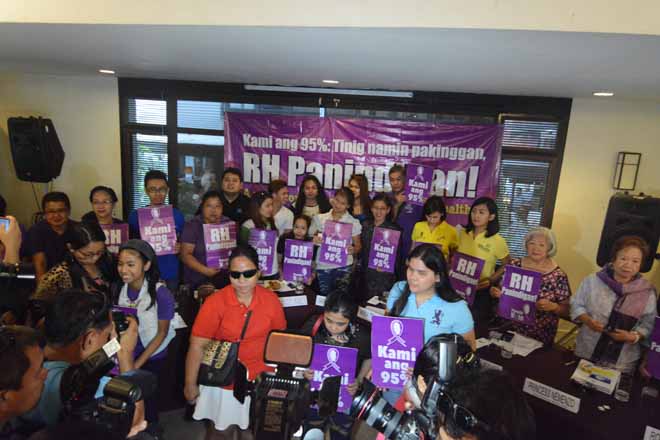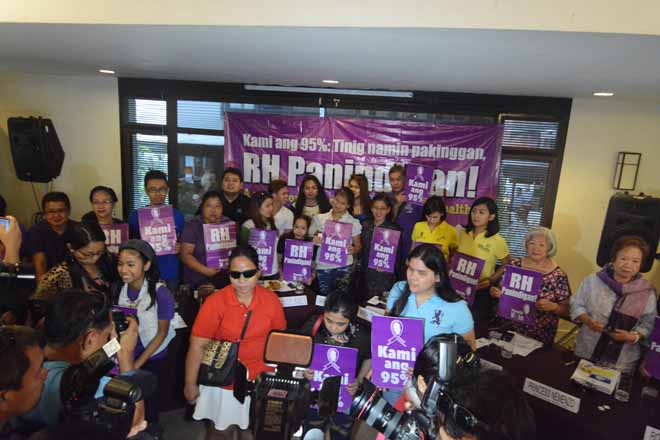 April 22, 2016
Reproductive health advocates and leaders from various sectors joined voices to step up pressure on candidates to ensure the full implementation the Reproductive Health Law.
In a press conference in Quezon City today, the Purple Ribbon for RH Movement – a broad coalition of groups and individuals who pushed for the enactment of the RH Law – urged national and local candidates to prioritize public education on sexual and reproductive health and rights, and the delivery of reproductive health services, including modern family planning methods.
"An overwhelming majority of Filipinos say family planning is important and that the government should fund family planning services. Candidates should heed the people's voice," said Romeo C. Dongeto, Philippine Legislators' Committee on Population and Development (PLCPD) executive director.
He cited a February 2016 Pulse Asia survey that revealed 95% of Filipinos saying family planning is important and 86% believing that it is the government's responsibility to fund family planning services.
Representatives from various marginalized sectors, such as the urban poor, the youth, persons living with HIV, persons with disability, workers and community health workers, stressed the importance of RH information and services that will address the specific needs of their sectors.
"We are the 95% and RH is our right," they said. They decried the cut on the 2016 budget cut on family planning, lamenting that defunding the implementation of the RH Law gravely affects their sectors and will reverse the gains in maternal and family health and development.
Meanwhile, in a statement, former health secretary Dr. Esperanza Cabral, convener of the Purple Ribbon for RH Movement, challenged candidates to bare their position and plans on RH and stop dancing around the issue.
Cabral lamented that reproductive health was not discussed in the Comelec presidential and vice presidential debates. Candidates have not substantively addressed the calls of many advocates for stronger commitment to fully implement the RH Law.
"Throughout this campaign, candidates have resorted to motherhood statements instead of laying down specific plans to promote women's rights, particularly ensuring women's sexual and reproductive health. One candidate even made fun of rape, which is totally unacceptable and insensitive to rape victims and survivors," Cabral said.
"We have to end the culture that reduces women to sexual objects, the belief that women are just for childbearing and housekeeping. Candidates should stand up for women empowerment, for their health and development where reproductive health is a major component," she added.
Cabral also challenged voters to elect leaders who have demonstrated strong commitment to champion reproductive health and protect women's rights.
She also warned anti-RH candidates, "We will take the fight to the ballots. Do not go against the current. Otherwise, you will not want to be on the wrong side of history."