Stakeholders in Cebu oppose the lowering of minimum age of criminal responsibility
February 9, 2017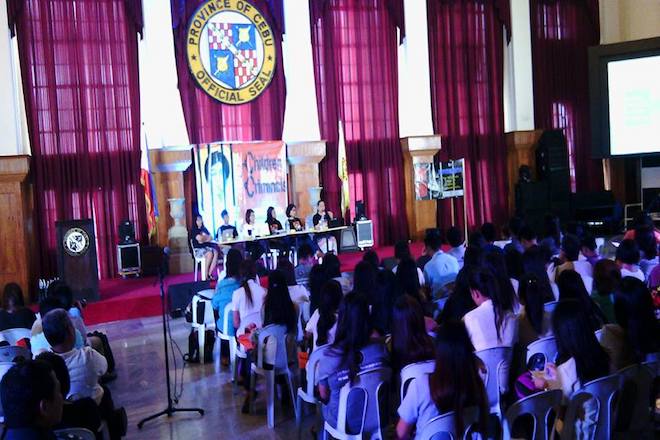 CEBU City, February 2. Media practitioners, stakeholders from the academe, government, youth sector and child rights advocates in Cebu gathered in a media forum to oppose the measures in Congress to lower the minimum age of criminal responsibility (MACR) and call for the strengthened implementation of the Juvenile Justice and Welfare Act (JJWA).
With support from UNICEF Philippines, the Child Rights Network (CRN) and Philippine Action for Youth Offenders (PAYO), together with local partner, the Children's Legal Bureau (CLB), organized the media forum in the Cebu Provincial Capitol in Cebu City.
The CRN represented by its convenor, the Philippine Legislators' Committee on Population and Development (PLCPD) through its National Advocacy Officer Janelle Rabe, shared updates on the progress of the bills that seek to lower the minimum age of criminal responsibility. Based on the discussions in the technical working group of bill authors and the Juvenile Justice and Welfare Council held on February 1, there are proposals by bill authors to negotiate a compromise and lower the MACR to 12 years old instead of 9. PLCPD member, Rep. Jocelyn Limkaichong of Negros Oriental, urged advocates to stand firm on their position against lowering the MACR to any age and committed her support to the campaign.
Atty. Margarita Ardivilla, child protection specialist of UNICEF Philippines, and Atty. Noemi Abarientos, CLB Program Coordinator, discussed the international frameworks such as the Convention on the Rights of the Child and the provisions of JJWA respectively to reinforce the stand that the law is grounded on core principles of child rights and, when implemented to its full potential, will serve the best interests of the child.
A representative from the Juvenile Justice and Welfare Council explained the status of the implementation of JJWA, lamenting the gaps in human resources. For instance, only 3% of LGUs have appointed licensed social workers. Due to the absence of social workers, standard procedures such as handling cases of CICL are not complied with. Councilors from Barangay Sambag II cited their experience of implementing local programs on juvenile justice which took nine years but it was worthwhile seeing the positive changes on the children.
Mr. Robby Echavez, a psychologist from Magone Homes Don Bosco, emphasized that beyond providing structures and programs, the most crucial aspect to helping children at risk and promoting their resilience is to ensure that they have loving and supportive relationships. A former CICL, who is among the youth helped by Mr. Echavez, talked about his struggles as a CICL and how he overcame various challenges, thanks to the support of his family, friends and mentors. He is now studying psychology so he can help other youth in need.
The media forum is part of a series of activities against the lowering of MACR led by child rights groups CRN and PAYO. Next media activities include: a press conference in Davao (February 10), a press conference in Legazpi City (February 14), and a national press conference in Quezon City (February 16).