UHD Episode 45: Malinis na Hangin, Ipaglaban Natin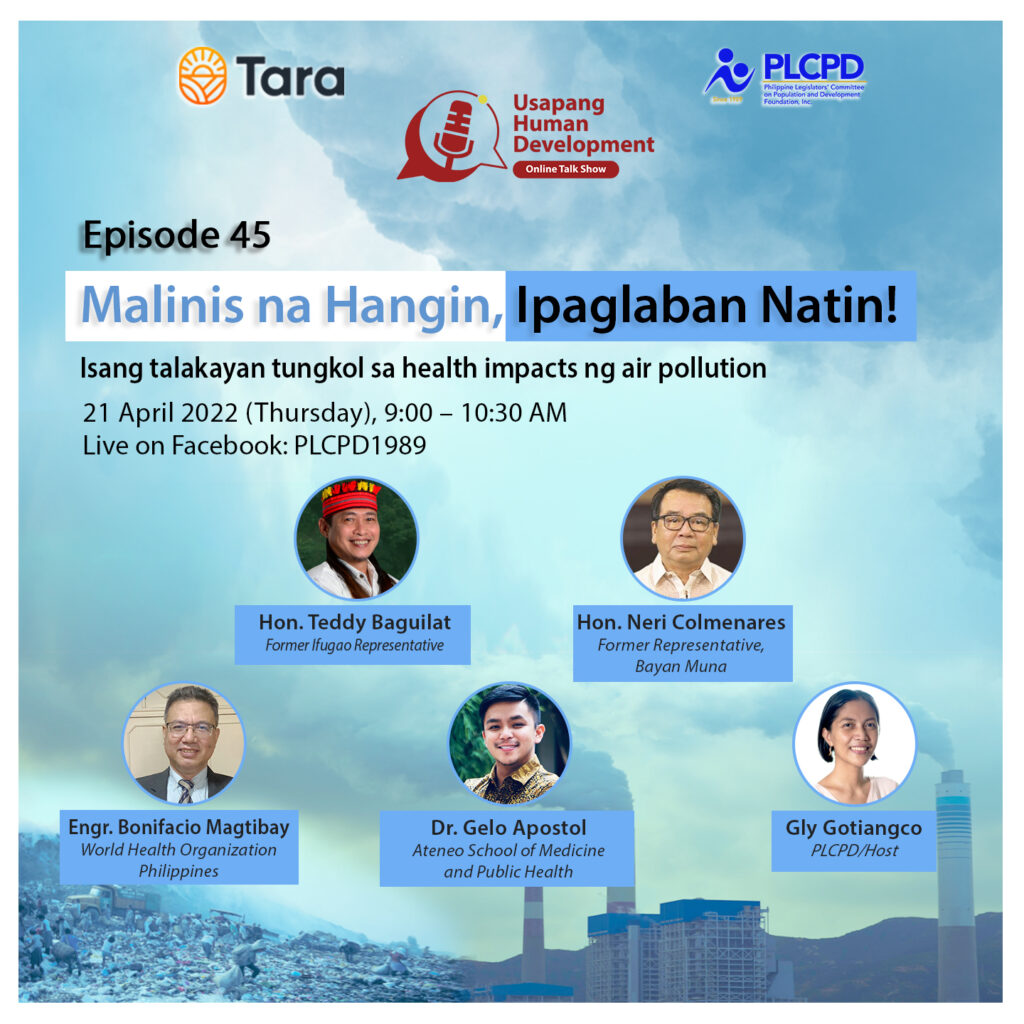 In the 45th episode of the Usapang Human Development Series, the Philippine Legislators' Committee of Population and Development (PLCPD) gathered environment and health experts and advocates, including former legislators, to discuss the health implications of air pollution and possible solutions, frameworks, strategies, and measures to improve the quality of air in the country. This episode was hosted by Ms. Glyziel Gotiangco, Advocacy and Partnerships Officer of PLCPD. 
The panel was composed of Engr. Bonifacio Magtibay from the World Health Organization, Dr. Gelo Apostol from the Ateneo School of Medicine and Public Health, former Representative and chair of PLCPD Teddy Baguilat, and former Representative and board member of PLCPD Neri Colmenares.
The discussion began with the sharing of Engr. Magtibay on the updated Air Quality guidelines of the World Health Organization and how these guidelines can help in addressing air pollution in the country. Dr. Gelo Apostol then proceeded with sharing the negative health effects of pollution, highlighting that there is no safe level of exposure when it comes to air pollution.
Shifting the discussion towards the policy level, former Representative Teddy Baguilat shared the current gaps in policies, one of which is the need to review the Clean Air Act. Given that the law was passed 20 years ago, there is a need to look at its effectiveness and the necessary changes or updates in the law. Former Representative Neri Colmenares, on the other hand, talked about the position of the Makabayan bloc on the modernization of jeepneys and on the Renewable Energy Act sharing that they voted against the latter due to the privatization of industry, which would be a burden to the consumers and. He also shared the resolutions and bills he has filed such as the 1 million solar panel bill which sought to assist homes and businesses to install solar panels to start the transition to renewable energy. 
The panelists present also responded to the questions of the viewers on how to effectively communicate this issue to the general public and the possible innovations to be able to shift towards renewable energy. The panelists ended the discussion by reiterating that the health of the people should not be compromised. They also called on all stakeholders to do their best to prevent pollution-related sickness by not only meeting the guidelines set by the World Health Organization but by lowering the level of pollution as much as possible.