Young leaders assemble for another learning session toward a Tobacco-Free Generation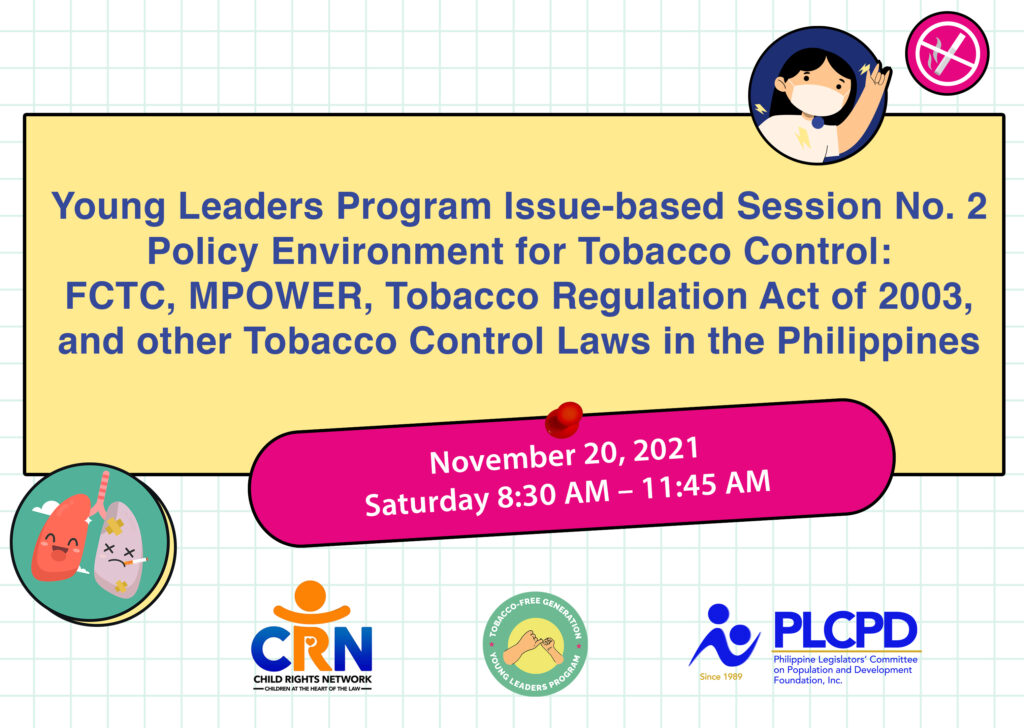 On World Children's Day on November 20, around 30 promising young leaders who are participants of the Young Leaders Program on Tobacco Control attended the second issue-based session focused on the policy environment for tbacco control in the Philippines.
Atty. Sophia San Luis, Executive Director of ImagineLaw, discussed the Framework Convention on Tobacco Control (FCTC ) MPOWER Framework, the set of interventions for addressing or reducing the impact of tobacco use. Atty. Jacky Sarita, Managing Director of HealthJustice, also joined the session to discuss the Tobacco Regulation Act of 2003 including its salient provisions and prospects for reform, as well as other tobacco control laws in the Philippines.
One of the young leaders raised, "I understand that this is a complex question, but I will still ask it anyway, why can't we just ban tobacco products?" As the experts have pointed out, the tobacco industry remains to have a strong influence in policy-making which is all the more reason why the role of young people in the campaign for a tobacco-free generation and a smoke-free Philippines must consistently be strengthened. This is the purpose of the Young Leaders Program and more learning sessions and activities await the child and youth advocates.
The day was concluded with a question: "What opportunities in the remaining months of the 18th Congress and in the 2022 elections can be maximized by young people in the advocacy for stronger tobacco control laws in the Philippines?"
On November 26, to culminate the celebration of National Children's Month, the young leaders will convene once more and join other youth leaders in the call for tobacco control laws that prioritize public health and the protection of children and youth.
The Young Leaders Program is organized by the Philippine Legislators' Committee on Population and Development (PLCPD) and the Child Rights Network (CRN) with the support of the Campaign for Tobacco-Free Kids (CTFK).