PLCPD raises awareness on child marriage, urges the youth to stand up for rights
June 16, 2018
Recognizing the important role of the youth in advocating for the rights of women and children, the Philippine Legislators' Committee on Population and Development (PLCPD) conducted a series of issue orientations on child, early, and forced marriage catered to young people. The activities aimed to raise awareness on child, early and forced marriage (CEFM) and encourage the youth to engage in the advocacy.
These issue orientations took place at De La Salle – College of Saint Benilde in partnership with Center for Social Action Benilde on June 5, and at the Sulo Riviera Hotel in Quezon City in cooperation with Pasay Sangguniang Kabataan Federation and Youth Development Council, Virlanie Foundation, ERDA Foundation, Y-PEER Pilipinas, and Barangay Culiat on June 7.
During his opening remarks on June 5, Mr. Neil Pariñas, Vice President of La Sallian Mission for Student Leader, expressed his recognition of the importance of involving young people in discussions and advocacies for issues that affect them. "Young people can be leaders. As long as you can influence even just one person to change, then you are a leader, " he declared.
During the sessions, Ms. Angelica Ramirez, advocacy manager of PLCPD, discussed the prevalence of child, early, and forced marriage in the Philippines and CEFM's impact on health and development of young girls and boys. She emphasized, "We need to take action on ending child marriage regardless if there is one or million cases of child marriage because it is a violation of rights." She also explained the forms of violence experienced in all phases of a woman's life, from prenatal to old age. She emphasized, "We have to be critical of current laws and how legal contradictions serve as barrier to prohibiting CEFM."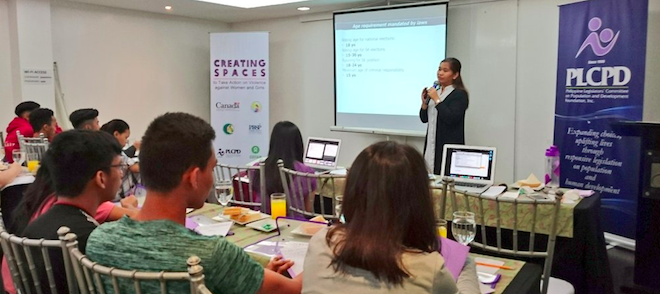 Professor Sorhaila Latip-Yusoph (Sor), a Maranao and professor in Mindanao State University shared with the participants her life story and reflections on her experiences. Professor Sor, a survivor of child marriage, was married at 16, had her first child at 17 and second child at 18, and asked for divorce at 19. She recounted the physical and emotional difficulties she experienced being married at an early age, including the sacrifice of giving up schooling when she had been an honor student and a leader in her campus. She mentioned that most young women who experience the same may not be able to speak and fight for themselves, which is why the advocacy is important. Recognizing that CEFM happens throughout the Philippines and and is not only practiced among Muslim communities, she urged the youth leaders who participated in the activities to be involved and take action, stand up for their rights, and reach out to their communities as well.
Ms. Leah Barbia, Office in Charge of Gender Equality and Women's Human Rights Center, Commission of Human Rights, talked about human rights and how the issue of child marriage should be approached using the lens of human rights.
During the beginning of the sessions, the youth participants shared their perceptions on child marriage as a form of exploitation and slavery and how it is related to the issues of teenage pregnancy, and violation of rights, including right to education. By the end of the sessions, they committed to be involved in the campaign, learn more about the issue and share their learnings with their peers and other young people.. Inspired by the life of Professor Sor, one of their commitments is "to stand up for every 'Sor' in every barangay, to end the cycle of 'Me too'."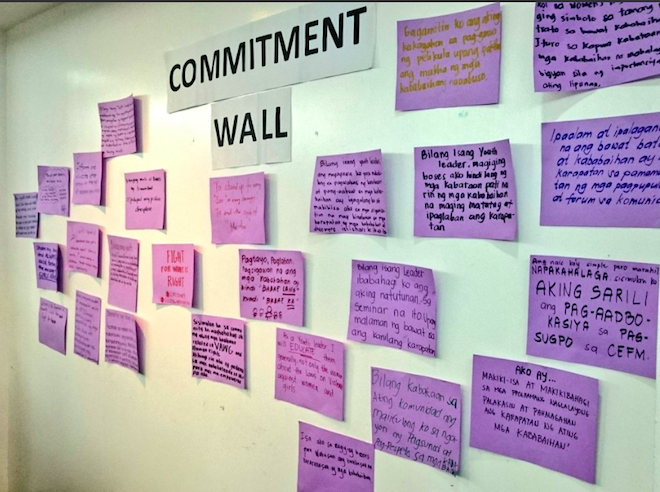 In his closing remarks, Mr. Romeo Dongeto, executive director of PLCPD, shared with the participants how different sectors and organizations are working together to end child marriage, and how PLCPD, as an organization of lawmakers recognizes the role of reforms in institutions—including laws—in ending child marriage. "Reforms in policies may take a long time and demands the participation of as many stakeholders, as many voices, as possible. We are happy that with this activity, we are able to see young people committed to be involved. Let us all work together to save the lives and future of women and children," he said.


PLCPD is part of the Creating Spaces to Take Action on Violence against Women and Girls project, together with Oxfam, Al-Mujadilah Development Foundation, and United Youth of the Philippines– Women and with the support of Global Affairs Canada. A campaign across six countries in Asia, Creating Spaces aims to reduce violence against women and girls and reduce the prevalence of child, early and forced marriage.


"Positive" mini-concert welcomes enactment of new AIDS law
June 1, 2018
A celebration and a commemoration. The Philippine Legislators' Committee on Population and Development (PLCPD) seamlessly blended these two themes at a mini-concert held on Friday, June 1 in Quezon City.
Aptly titled "Positive", the event brought together at the Quezon Heritage House in Quezon City Memorial Circle leading advocates, artists, and champions responding to the challenge of HIV in the Philippines. The cause for celebration was the recent "win" when the bill amending Republic Act 8504 or the AIDS Prevention and Control Act authored by Senator Risa Hontiveros was approved on third and final reading by the Senate. The House of Representatives had approved its version of the bill earlier than the Senate, in December 2016.
On the other hand, the commemoration was in support of the International AIDS Candlelight Memorial, a global movement in honor of the individuals who had passed on due to AIDS-related complications.
"The International AIDS Candlelight Memorial is a solemn remembrance. But we would also like to take this occasion to celebrate our recent gain, especially in the legislative arena. Finally, after seven long and difficult years in Congress, we have reason to believe that we will be seeing soon a new law that will respond to our current situation. The bill has provisions that improve access to and availability of comprehensive services on HIV and AIDS, including services for prevention, treatment, care and support," said Rom Dongeto, executive director of PLCPD.
Civil society organizations have played a vital role in mobilizing support for the bills in both the House of Representatives and the Senate. Desi Andrew Ching, Convenor of the Network to Stop AIDS – Philippines shared their experiences in lobbying with legislators to support the bills which would provide the policy framework for a robust response to HIV and AIDS.
On the part of the legislators, Rep. Teddy Brawner Baguilat, one of the authors of the bill, affirmed his support for a national response to HIV, a response which would be further strengthened upon enactment of a new AIDS law.
The HIV epidemic in the Philippines is rapidly expanding, and young people are most at risk of HIV infection. While a number of innovative approaches have been developed to reach young people, a responsive policy framework is needed to support these new approaches and technologies.
Messages from key partners such as Dr. Louie Ocampo of the UNAIDS and Ms. Eden Divingracia of the Philippine NGO Council for Population, Health and Welfare, further emphasized the importance of an expanded response to HIV.
In an evening of music and advocacy, performances from various artists enlivened the event. Noted artists and advocate Cookie Chua and the youth band known as Zone One performed musical numbers which complemented the messages from key stakeholders.
The response to HIV is noted for being inclusive, and an advocate and service provider had also been invited to perform at the program. The two songs performed by Marc Mateo, who works with the Klinika Bernardo in Quezon City, were also a highlight of the program.
The mini-concert culminated in a candle-lighting ceremony, led by persons living with HIV and other key partners – a solemn and poignant reminder of the lives lost to the HIV epidemic. The night is a reminder that HIV should not be a death sentence, and a call to further strengthen the response to HIV and to secure healthy and productive lives for all.
International Day of Action for Women's Health in Congress highlights call for enactment, implementation of laws protecting women's health
May 28, 2018
Enact expanded maternity leave. Ensure safe workplaces for women. Implement Reproductive Health (RH) Law.
These were the calls highlighted during the celebration of International Day of Action for Women's Health (IDAWH) at the House of Representatives.
With quadruple commemoration of Labor Day, Mother's Day, Cervical Cancer Consciousness Month, and the International Day of Action for Women's Health this May, the Philippine Legislators' Committee on Population and Development (PLCPD) and the ARCHES Project, Gabriela Women's Party (GWP), Kilusan ng Manggagawang Kababaihan (KMK), and the House of Representatives Committee on Women and Gender Equality gathered legislators, women workers, and advocates of women's rights and reproductive health in an advocacy event called "Celebrating Women's Health, Transforming Commitments into Action" to push for the enactment of bills on expanded maternity leave and occupational safety and health as well as to make the call for the full implementation of the Reproductive Health Law.
The bill expanding maternity leave to 100 days is currently under plenary deliberation at the House of Representatives and has been approved on 3rd and Final Reading in the Senate, while the bill on occupational safety and health is already in the bicameral conference. Meanwhile, Congress is set to embark on congressional review of the Reproductive Health Law, five years since its enactment in 2012.
Advocates are seeing the RH Law review as an opportunity to fill in policy and gaps in implementation, and see what more can be improved given the serious challenges that the law had to endure, including the temporary restraining order that had affected the country's family planning program.
"Women comprise more than half of the working population yet we are the most vulnerable to various risks and hazards. That is why we are highlighting improved measures and safeguards on occupational safety and health. The issue on occupational safety and health is also related to one of the priority measures of the Committee on Women and Gender Equality: the bill on expanding maternity leave to 100 Days, as it seeks not only to expand the number of days that women can spend with their children and promote optimal breastfeeding but it also has provisions to protect women in the workforce from discrimination and ensure security of tenure," said Rep. Bernadatte Herrera-Dy, Representative of Bagong Henerasyon Partylist and Chairperson of the Committee on Women and Gender Equality
Meanwhile, Romeo Dongeto, PLCPD Executive Director, called for the full implementation of RPRH Law.
"We are happy that bills protecting women's health and rights are being pursued in the 17th Congress. But there is still so much to be done as we continue our advocacy for the full implementation of the RH Law. We look forward to seeing our lawmakers exercise their oversight function in ensuring that the laws they crafted are able to achieve their objectives," Dongeto said.
PLCPD raises awareness on cervical cancer
May 23, 2018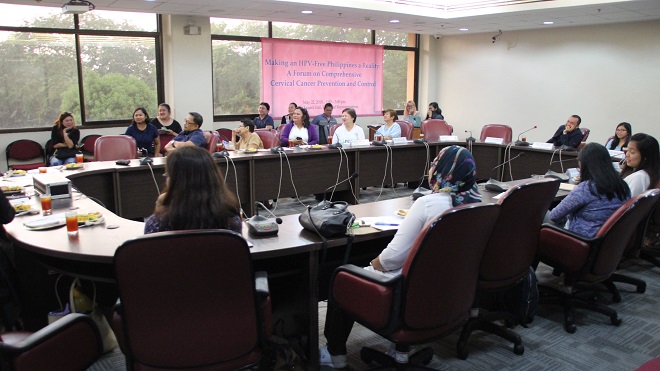 In observance of the National Cervical Cancer Prevention Awareness Month and the International Day of Action for Women's Health, the Philippine Legislators' Committee on Population and Development (PLCPD), in partnership with the office of Akbayan Party-list representative Tom Villarin, organized a forum on cervical cancer on May 22 at the House of Representatives.
Opening the forum, Mr. Kyle Salcedo, representative of Congressman Tom Villarin highlighted that the prevention of cervical cancer and other reproductive tract cancers is among the elements of reproductive health.
Dr. Jennifer Co from the Philippine Obstetrical and Gynecological Society served as resource speaker on HPV and cervical cancer. She said, "For cancers affecting women, it is good that there are screenings for prevention and early detection. In the Philippines, 6,000 women are diagnosed with cervical cancer annually. More than half will die every day. This is because most are diagnosed late."
Mandaluyong Representative Queenie Gonzales shared her cervical cancer prevention program in her city and why legislators have a critical role in the prevention of cervical cancer. Dr. Laila Celino, of Department of Health – NCR shared government efforts on cervical cancer prevention.
Amendment to AIDS Prevention and Control Act moves closer to enactment
May 22, 2018
Advocates are hopeful that the Philippines will see a new law on comprehensive HIV prevention, treatment, care, and support as the Senate of the Philippines approved on Third and Final Reading on May 21 the bill filed by Senator Risa Hontiveros.
The House version of the bill was approved in December 2017, so a bicameral conference to harmonize differing provisions of House and Senate versions is expected to be convened soon.
First filed six years ago, the bill updates Republic Act 8054 or the Philippine AIDS Prevention and Control Act of 1998 to respond to the current national situation. The country has registered the highest HIV infection growth rate in the Asia-Pacific region in the recent years. The bill has been part of the PLCPD legislative agenda since the 15th Congress.
PLCPD supports the Philippine Plan of Action to End Violence against Children
May 11, 2018
The Philippine Legislators' Committee on Population and Development (PLCPD) expresses its commitment to ensure the implementation of the Philippine Plan of Action to End Violence Against Children (PPAEVAC), which the Council for the Welfare of Children (CWC) and its partners recently launched.
Grounded on the data on children established through the National Baseline Study on Violence Against Children (NBS-VAC) conducted in 2015, the PPAEVAC is an important multi-sectoral plan that outlines six key result areas and strategies to address Filipino children's prevalent experience of violence. This includes positive discipline, child and adolescent skills against violence, children's access to protective services, effective monitoring and evaluations framework, enforcement of all VAC-related laws, and child protection systems across all levels of the government.
Other lead agencies identified in the implementation of this plan of action from 2018 until 2022 are the Department of Social Welfare and Development (DSWD), Department of Education (DepEd), Department of Justice (DOJ), department of Health (DOH), and the Department of the Interior and Local Government (DILG).
Released in 2017, the National Baseline Survey on Violence against Children (NBSVAC), reveals that in the Philippines boys experience sexual abuse more often than girls. The survey also show the following: 1 out of 5 suffers from sexual abuse at home, in school and in the community; 2 out of 5 commit a form of violence with their peers; 3 out of 5 admit experiencing some form of psychological violence; 4 out of 10 grew up seeing some form of physical violence at home; 5 out of 10 suffer from cyber-violence; 6 out of 10 are physically and psychologically abused; 7 out of 10 do not avail of local child protection systems in their community; 8 out of 10 LGBT children are physically and psychologically abused; 9 out of 10 think that parents act in the best interest of children; and 10 percent of children are physically neglected by their parents of guardians.
The Philippine Plan of Action to End Violence against Children is envisioned to contribute to addressing this situation. The Philippines became a pathfinding country in 2017 and as such, the country is committing to three to five years of accelerated action towards achieving a violence-free environment for children through policies that are rights-focused, child-centered, universal, gender-sensitive, inclusive, transparent, evidence-based, and results-focused in the Global Partnerships to End Violence against Children. While the Philippines can boast of its relatively advanced legal framework on child welfare, there are still significant gaps in the fulfillment and promotion for the rights of children to survival, development, protection and participation, which can be addressed through policy and legislative reforms.
PLCPD and its partners including UNICEF and the Child Rights Network, which it convenes, are advocating for the passage of laws that will eliminate the various drivers of violence against children. Pending Senate and House bills on increasing the age to determine statutory rape, promotion of positive and non-violent forms of discipline, ending online and commercial sexual exploitation of children, comprehensive anti-discrimination, and the protection of mental health of children especially those in situations of armed conflict are just some of the many legislative proposals that the group is supporting through multiple strategy campaigns. The group is also pushing for oversight of related child protection laws and remains steadfast in seeking lasting results through laws and their efficient implementation.
PLCPD intensifies efforts in the campaign for comprehensive maternal and child nutrition
May 7, 2018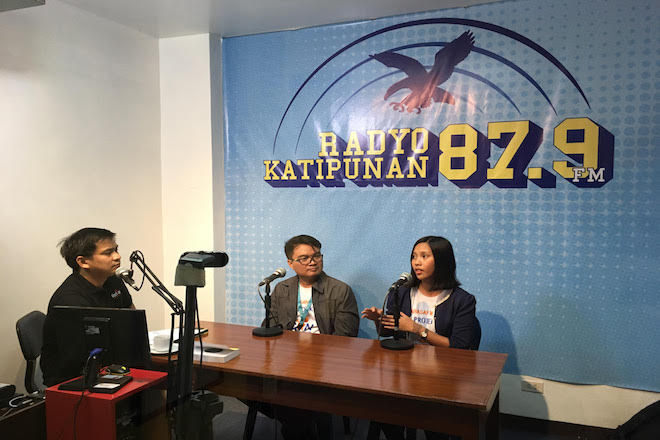 As crucial legislative measures on maternal and child nutrition move closer to enactment, the Philippine Legislators' Committee on Population and Development and its partners sustain efforts to ensure that the bills will finally be enacted within the 17th Congress.
PLCPD participated in the pre-bicameral conference for the First 1000 Days bills held at the Senate on May 2. Representatives from the House Committee on Health and Senate Committee on Health and Demography and the offices of Senators Hontiveros, Recto and Ejercito led the conference. The Department of Health and National Nutrition Council, and Save the Children, a member of the Philippine Coalition of Advocates for Nutrition Security (PhilCAN) were also present. The Senate version served as the reference document but significant provisions from the House of Representatives were adopted to substantially improve the final output.
PLCPD and UNICEF were instrumental in the filing of the first versions of the bill on the first 1,000 days during the 16th Congress by providing technical assistance to the bills authors and champions.
The First 1,000 Days bill is expected to be signed into law before the start of the third regular session of the 17th Congress in July 2018.
As part of efforts to sustain and consolidate support for the movement of the bill, PLCPD and the Child Rights Network also conduct public awareness programs. On May 3, PLCPD's Advocacy and Partnerships Officer Janelle Rabe represented the Child Rights Network, along with UNICEF Nutrition Specialist Dr. Rene Galera in Radyo Katipunan's Jesuit Hour hosted by Fr. Nonoy Legaspi to talk about the 1,000 Days.
Dr. Galera explained the significance of the first 1,000 days as a critical window of opportunity for nutrition. He also identified the essential services on health, nutrition, early stimulation and water, and sanitation and hygiene services that should be provided throughout the different stages in the first 1,000 days. He emphasized the burden of malnutrition in the country and shared that more than 4 million Filipino children under five years old are stunted.
Janelle Rabe, who was PLCPD's representative in the pre-bicameral conference, shared updates on the status and prospects of First 1,000 Days bills in the legislative arena. She also cited the parallel multi-sectoral campaign efforts to expand paid maternity leave bill of up to 120 days as part of the advocacy for comprehensive nutrition intervention for mothers and their babies.
This proposed legislative measure gives mothers and their babies to bond together for a longer period of time and practice exclusive breastfeeding. The bill recognizes the need for mothers to have enough time to recover from the physical, psychological and emotional effects of childbearing. Furthermore, it reinforces the call for mothers to exclusively breastfeed their babies noting that there is no alternative approach to receiving the same benefits that is can give to the overall health and development of the babies.
Dialogue highlights crucial role of LGUs in RPRH Law implementation
April 20, 2018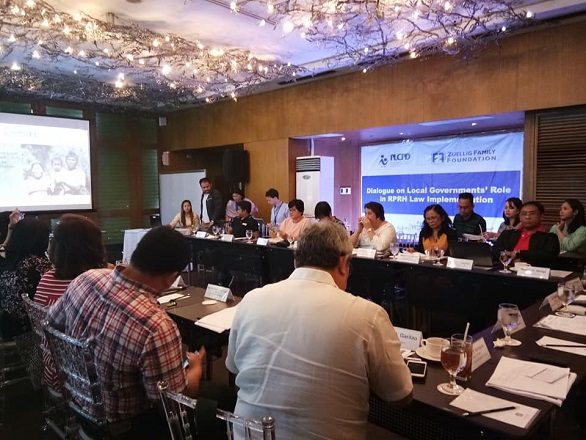 Recognizing the crucial role of local government units (LGUs) in the full implementation of the Responsible Parenthood and Reproductive Health (RPRH) Law, the Philippine Legislators' Committee on Population and Development and the Zuellig Family Foundation organized a dialogue that discussed best practices as well as challenges of LGUs in the implementation of the law on April 17.
Among the highlights in the dialogue are the experiences, best practices, challenges, and recommendations of local government units in implementing family planning (FP) and adolescent sexual and reproductive health (ASRH) programs. Dr. Arvin Alejandro, Sarangani Provincial Health Officer, shared their initiatives including Tutok Buntis which had been promoting services for mothers and their babies. Mayor Cielo Krisel Lagman-Luistro of Tabaco City, Albay stressed the importance of having teen centers and developing youth ambassadors. Mayor Melchor Mergal of Eastern Samar shared that they have had zero maternal death since 2014 due to their initiatives on mainstreaming adolescent reproductive health.
Mr. Romeo Dongeto, PLCPD Executive Director said that local government units should be accountable for the implementation of RPRH Law. Dr. Angelito Umali, UNFPA National Program Officer, recommended the need to have skilled birth attendants, emergency obstetric and new born care and family planning. Dr. Juan Antonio Perez suggested that Commission on Audit (COA) and the Department of the Interior Local Government (DILG) should discuss on the utilization of (Gender and Development) GAD Budged. Dr. Jose Rodriguez, Chief of Party of VisayasHealth recommended that the best time to talk about family planning to mothers is right after they have given birth.
Asec. Rhea Penaflor of National Youth Commission (NYC) showed commitment in addressing adolescent reproductive health. Likewise, Dr. Ruby Constantino, Director of Family Health Office of Department of Health (DOH) has expressed that DOH will work closely with LGUs for the implementation of RPRH Law.
Recommendations that were put forward by the participants include having clear guidelines on the utilization of GAD fund for RH programs although it is still best to have dedicated funds for RH from the LGUs' allocation for health, including RH in the indicators for Seal of Good Local Governance, and promoting health and RH as part of good governance and accountability of local governments.
Advocates in Lanao del Sur commit to further improve RH advocacy in the province
April 9, 2018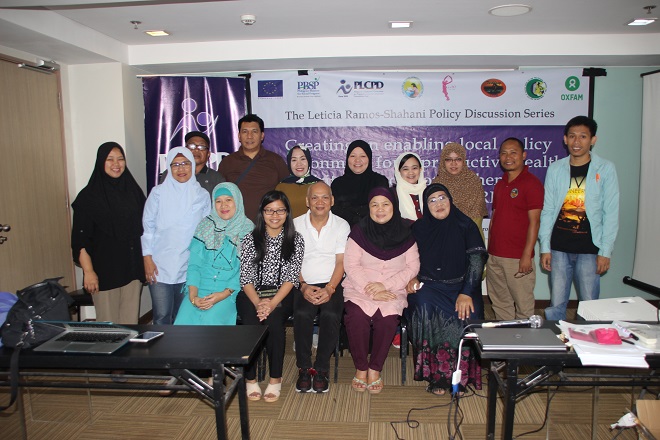 Everyone can contribute to raising public awareness about sexual and reproductive health and rights (SRHR) and the Responsible Parenthood and Reproductive Health (RPRH) Law.
With this in mind, the Philippine Legislators' Committee on Population and Development (PLCPD), in partnership with Al-Mujadilah Development Foundation, gathered various stakeholders at the local government, civil society, Muslim religious institutions, and ARCHES community in a training of facilitators on the key points of the Responsible Parenthood and Reproductive Health (RPRH) Law and provincial SRH network meeting in Iligan City on April 4.
The activity aimed to capacitate participants in discussing the concept of reproductive health and the rights and entitlements of Filipinos in relation to this as enshrined in the RPRH Law. Resource persons discussed the national and regional RH situations, the salient provisions of the RPRH Law, and the fatwa on family planning and reproductive health.
Dr. Alinader Manalang, Provincial Health Officer of Lanao del Sur, shared the provincial RH situation in Lanao del Sur, highlighting that the Marawi siege greatly affected the situation, especially of women and girls, but also mentioning some opportunities for advancing the RH advocacy in the province, such as strengthening partnership with local stakeholders.
On the discussion of Fatwa on Family Planning and Reproductive Health, Aleem Anwar Radiamoda emphasized the basic values of Islam, the parenting approach, marriage and violence against women and girls in Islam, and the salient points of the fatwa.
Ms. Au Quilala, Project Manager of PLCPD, discussed the salient features of the law and the challenges it encountered since its passage in 2012. She also facilitated the workshop in which the participants were able to clarify and answer the frequently asked questions that they encounter about RH and the RPRH Law.
The second half of the program was devoted to the launch and organization of the Purple Ribbon for RH (PR4RH) in Lanao del Sur. Facilitated by Mr. Mr. Cezario Magpayo, Project Manager of PLCPD, the participants expressed their support for RH. Coming from various sectors, the participants committed their organizations' or individual support to advocate RH in their communities.
Student leaders celebrate Women's Month through conversation on issues that affect women and girls
March 12, 2018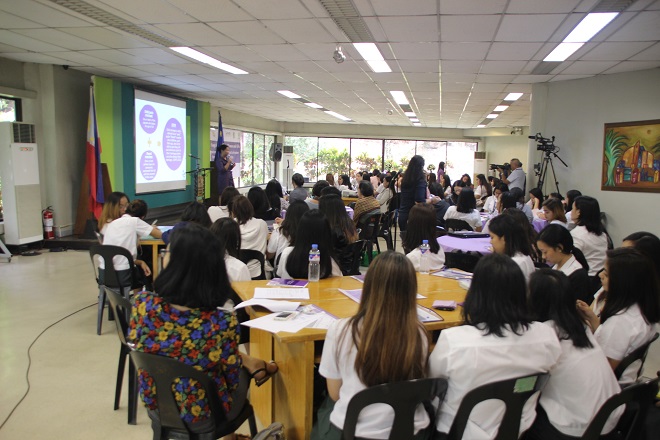 As part of the celebration of Women's Month and in recognition of the role of young people in advocacy, the Philippine Legislators' Committee on Population and Development (PLCPD) and Women and Gender Institute (WAGI) of Miriam College organized an advocacy event on March 9 called Start Young, Stand up for Women and Girls: Conversations among leaders and advocates for women and girls' rights.
Around 90 student leaders of Miriam College participated in this event, which was held in their campus. The event featured national legislators and youth leaders who delivered inspirational talk, "Why we need to be advocates for women and girls." They encouraged young women to take actions on emerging issues of women and girls such as adolescent reproductive health and child, early, and forced marriage. Ms. Angelica Ramirez, PLCPD Project Manager for Creating Spaces to End Violence Against Women and Girls gave an overview of prevalence and impact of child marriage.
House of Representatives Deputy Speaker Linabellle Ruth Villarica stressed that women belong to politics. Rep. Bernadette Herrera-Dy said, "The youth have an equal voice to demand government services, protection, and justice." Rep. Sarah Jane Elago, Kabataan Party-list Representative, shared her passion in advocating the rights of marginalized sectors, particularly the youth, and emphasized the role of collective action.
Ms. Sarah Jane Biton, Youth Program Coordinator of Women's Global Network for Reproductive Rights shared her efforts in advocating sexual and reproductive health and rights. Ms. Jasmine Tolentino, President of CEDAW Youth Miriam College Chapter, gave compelling reasons why her generation should advocate for women and girls. She said that they should be the voice of voiceless.
Facilitated by Prof. Luz Martinez, the participants also had a dialogue on other issues affecting women and girls; among the issues surfaced during the dialogue are affordable and environment-friendly feminine products, representation of women in the media, feminists being branded as men-haters, breaking the glass ceiling, competition among women, and freedom of women to wear what they want.
The nationwide essay-writing competition on adolescent reproductive health was also launched during the program. The essay-writing competition is organized by PLCPD and ARCHES Project.
Working together in advocating policy reforms for women's empowerment and gender equality
March 9, 2018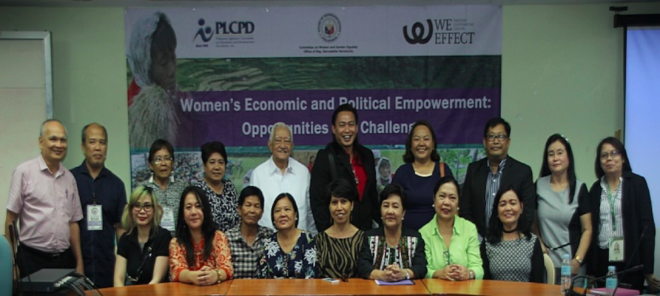 Recognizing the crucial role of legislation in achieving gender equality and the empowerment of women, the Philippine Legislators' Committee on Population and Development (PLCPD) and its partners teamed up with the House of Representatives Committee on Women and Gender Equality for a week-long celebration of National Women's Month in Congress. A highlight of this celebration was the policy forum on women and rural development held on March 6 called "Women's Economic and Political Empowerment: Opportunities and Challenges" and that was organized with We Effect Philippines Country Office. Mobilizing legislators holding key positions in Congress, committee and legislative staff, and representatives of civil society organizations, the discussion centered on the general situation of women in rural communities, particularly the women farmers, fisherfolk, and those in the informal sector and recommendations on legislative reforms that may be introduced to help improve the situation. By the end of the forum, the participants committed to pursuing the advocacy for gender-responsive laws.
Lawmakers support passage of expanded maternity leave bill
March 8, 2018
As part of the celebration of Women's Month at the House of Representatives and the campaign calling for the full implementation of the RPRH Law and the enactment of other women and children's health measures, PLCPD and ARCHES Project, in partnership with labor groups, NAGKAISA, WorkersforEML and IndustriALL, led women advocates in a gathering to call on the swift passage of the Expanded Maternity Protection bill to kick off the National Women's Month in the House of Representatives. During the event, Speaker Pantaleon Alvarez; PLCPD members Deputy Speakers Linabelle Villarica, Sharon Garin, and Pia Cayetano; and Director Hassan of the International Labor Organization and Asec. Joji Aragon of the Department of Labor and Employment expressed their support for the bill.
During the session time, Committee on Women and Gender Equality Chair Rep. Bernadette Herrera-Dy led the resumption of interpellations for the Expanded Maternity Leave bill after it has been stalled for more than a year. The bill is expected to be passed soon given the strong support from House leadership.
Philippines losing P220bn every year as a result of child malnutrition: Costing study calls on government for strategic investment and policies
January 23, 2018



The Philippines loses about 220 billion pesos annually due to high prevalence of undernutrition among children. This was highlighted at the launch of two costing studies today that call on the government for better public investment and policy reform to improve children's nutrition and avert the country from economic loss.
The Department of Health (DOH) and the National Nutrition Council (NNC), along with the Philippine Legislators' Committee on Population and Development (PLCPD) and UNICEF launched the Economic Consequences of Undernutrition in the Philippines and the 2017 Global Nutrition Report at the House of Representatives. The two studies carry empirical and scientific evidence that are aimed to guide legislators in prioritizing investments for nutrition through the national budgeting processes.
"This situation cannot remain unchanged. Strategic investments and policies are needed if the country is serious about development. We must continuously work in the government to ensure sufficient and sustainable allocations for nutrition programs and policies; and never hesitate in investing in the health and nutrition of our country's future: the children," said Rep. Jocelyn Limkaichong, Vice Chairperson of the Committee on Ways and Means and member of the Committee on Appropriations.
The costing study on undernutrition reveals that the Philippines loses approximately 220 billion pesos per year due to the effects of undernutrition such as stunting, anemia, and iodine deficiency. This is equivalent to 1.5% of the Philippine GDP in 2015. This can be countered by investments in nutrition, which return around 12 dollars in foregone earnings or health expenditures due to undernutrition for every dollar spent in targeted nutrition interventions.
"Malnutrition robs our children of their foundational health and fundamental right to survive, thrive and reach their full potential. If not addressed immediately, these children will remain as outliers in society, with poor performance in school and low productivity as adults in the future. Thus, if not mitigated, this situation perpetuates the cycle of poverty. Only healthy children can have the chance to succeed in life," said UNICEF Philippines Representative Lotta Sylwander.
Meanwhile, the 2017 Global Nutrition Report highlights the interrelatedness of nutrition with 12 out of the 17 Sustainable Development Goals (SDGs). This means eradicating malnutrition will contribute significantly to the overall development of the country.
"The Philippines is already considered a trailblazer on nutrition policies in the international community. But we have much work to do since the situation of undernutrition among children is worsening: the Philippines is still one of the nine countries in the world with most cases of stunting, or too short for age, and wasting, or too thin for height, among children. So we encourage everyone to join us in the Scaling Up Nutrition or SUN movement of the Philippines," said DOH Assistant Secretary Bernie Flores.
"Mainstreaming nutrition in the development agenda is one of the best approaches that government can adopt to accelerate economic and social progress and at the same time fulfilling the people's right to a happy and healthy life. This is the reason why we in the civil society will never tire in pushing this government to consider all strategies that put people at the center when designing its development agenda. A stronger political will can transform our goals into sustainable action. Together, let us hold one another accountable for our commitments and make sure that our actions will lead to concrete improvements in the nutrition situation of our country," said Mr. Romeo Dongeto, PLCPD Executive Director as he closed the launch.
Representatives from Congress including Teddy Baguilat, Bernadette Herrera-Dy, Jocelyn Limkaichong and Anna Villaraza-Suarez, as well as executive agencies represented by Undersecretary Luzviminda Ilagan of the Department of Social Welfare and Development, Assistant Cabinet Secretary Evelyn Dela Cruz Cruzada, Assistant Secretary Bernardita Flores of NNC, and Assistant Secretary Ernesto Perez of Department of Trade and Industry signified their support to sustain and scale up investments in nutrition.